Intermittent boil with discharge of pus, hairs and blood occurs on sacral region in mid spinal line between natal cleft. In acute phase natal abscess is formed which is associated with pain and fever. The abscess is bust with discharge and symptoms are relieved leaving the intermittent or persistent discharging sinus.
Treatment :-
Excision of the sinus bearing area of tissues by elliptical incision and suture of the wound by deep and subcutaneous sutures.
Results :-
50% recurrences are reported after surgery of pilonidal sinuses.
Kshar Sutra Ayurvedic Treatment :-
45 cases of pilonidal sinuses were treated by kshar sutra during last 32 years. Post operative follow up study revealed recurrence in 3 cases. The kshar sutra was reapplied and patient were cured. The kshar sutra did not response in two cases, where radiological examination confirmed osteomyelitis of sacral bone. Remaining 40 cases were cured and did not show any type of recurrence during follow up study period for 3-5 years.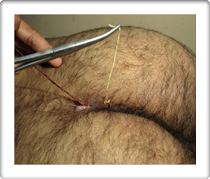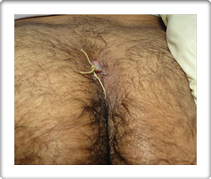 Most Asked
Frequently Asked Questions
Ksharsutra is a popular treatment modality in India for the management of fistula-in-ano. It works by the action of excision, scraping, draining, penetrating, debridement, and sclerosing as well as healing simultaneously without a surgical excision.
Ksharsutra ligation, when performed for Internal Piles, is usually painless. However, when external hemorrhoids are ligated some amount of pain is there which is tolerable and managed by taking painkillers.
The Kshar Sutra therapy comes as a very safe and a sure one to remove the pile mass, or the anal fissure or the sinus problem. The patients who opt for this Kshar Sutra ayurvedic treatment feel much happier and satisfied getting that extra mass out and healing that painful fissure.
Opening Time
Monday - Saturday

Morning

10:00 am - 02:00 pm

Evening

07:00 pm - 08:00 pm

Sunday

Morning

10:00 am - 02:00 pm

Evening

Closed
Address
28-B Ekta Nagar, Stadium Road, Bareilly, U.P India, 243005